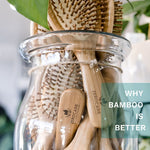 Our beautiful Bamboo Styler is not only pretty to look at, but it is also better for the environment and for your hair, let us tell you why!
Sustainable Bamboo #ZeroWaste
Our Bamboo Styler is 100% plastic-free made from FSC certified bamboo and natural rubber. Did you know that some species of bamboo grow more than three feet each day? This means that the time it takes to grow is dramatically reduced as opposed to hardwoods, maturing from seed to ready to harvest within 3-5 years rather than decades. Bamboo also regenerates new shoots from the roots which means that there is less time spent on regenerating forest, replanting and less time and costs overall. Bamboo is 100% biodegradable, look at you go #ZeroWasteWarrior
Detangling like a Boss
Our Bamboo Styler is soft and smooth meaning that when you pull through your hair you can detangle gently causing significantly less snagging and hair breakage. #ProTip if your hair is particularly knotty you should start brushing from the bottom of your hair working your way up in a downward motion, let your luscious locks grow.
Less Static, Say Goodbye to Frizz
Did you know bamboo has a neutral to negative charge so static is reduced, unlike its plastic counterpart? Plastic hairbrushes and combs increase the electrical charge in your hair which in turn leads to frizz, tangles, and fly-aways so using our Bamboo Styler will help the hair to stay smooth.
#Selfcare Scalp Massage
The Bamboo Styler has rounded bamboo bristles and natural rubber to cushion and massage your head when brushing. Massaging the scalp increases sebum production, which means softer, shinier hair. Increased blood flow to the scalp also helps to strengthen hair and improved overall hair and scalp health and hair growth, not to mention the #SelfCare love that will have your endorphins pumping.
Shine On, Superstar!
Our Bamboo Stylers glide through the hair helping the natural oils from the scalp to be distributed throughout the strands. Not only does your hair's natural oils create a shiner appearance but helps to create stronger, smoother hair from root to ends.
You can shop our Bamboo Styler here #zerocaresustainablehaircare