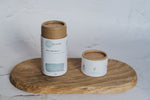 We have just launched something NEW in sustainable haircare, Sacred Water Dry Shampoo powder
...... for swell lookin' hair!
Made in Australia, this 30g low-tox hair styling powder has been infused with uplifting Australian Sandalwood and Geranium essential oils. 
Sacred Water Dry Shampoo is a unique 3-in-1 soothing antibacterial formula that has been created to rebalance excess oil, enhance volume and nourish the scalp. 
For an epic refresh apply 1-2 shakes of our dry shampoo powder at the roots of your hair 1-2 times per week (or as per needed)
Ride the clean wave 100% home compostable tube.
Zero Plastic. Zero Waste. 100% Sustainable
Why you'll love it:
- Made with love in Perth, Western Australia
- 30g Tube
- Water Saver 
- 100% Ocean Safe Formula 
- 100% Plastic Free
- 100% Home Compostable Packaging
- Cruelty-Free
- Vegan Friendly
- Plant Ingredients
- 100% Toxin Free
- Light Weight Formula
- Plant Based Ink/Compostable Label